dagobert
Guest

My canary is breathing too fast
« Thread Started on Feb 11, 2008, 2:07am »

---

So I have this canary and she's about 2 or 3 years old now. The past 1 year I've noticed she breathes faster than the other canaries, she eats and drinks well. Doesn't seem to be that social with the other male canaries, she just ignores them.

So I'm wondering, what could be the cause for her breathing a bit faster than the other birds? Is there any thing I can do without having to take her to the vet since I'm in a bit of a financial problem here.

Also since yesterday I've noticed she lifts her right feet up a lot. So I took her in the hand and she curls up her legs to the back, but her left foot will grab onto my finger but not with her right foot. I've looked at her legs and there doesn't seem to be anything wrong with it, it looks fine. Also she just sits in the hand with her legs curled up even after opening my hands for her to fly, she just stays in that position for a while until she fly's away.

Now her flying isn't that great either, I leave the cage open for my birds to fly but she just stays in the cage which is why I'm guessing that's why she's not so good at flying.

My main concern is her breathing and her foot. Any one got any suggestion or info? Should I take her to the vet? When I've taken a bird previously to the vet they've always done some thing which I can do at home for free, but they charge like almost 200$ for it plus stressing my birds out. I've been told by some bird breeders that it's best not to take birds to a vet unless it's a parrot.
Scully
Administrator


member is offline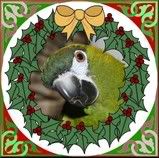 Joined: Jan 2006
Gender: Female


Posts: 5,230
Location: Vaio Uk
Karma: 67
Re: My canary is breathing too fast
« Reply #1 on Feb 11, 2008, 3:11am »

---

Hi Dagobert, and welcome to Birdcrazy

Sounds like your bird could have all sorts of problems, is the poo normal?
The only one that could tell you for sure, im afraid is a vet. My vet charges smaller fees for small animals, say around $45-$50, perhaps there is a better choice for you around where you live.

Apple cider vinegar, in the water can work wonders for birds, its a bit of a tonic, and can clean toxins in the body.
http://earthclinic.com/Remedies/acvinegar.html
you will need very little, but its a great item to have in the home.
heres a great site
http://www.holisticbird.org/

It does annoy me when someone says a bird so small is not worth a vet visit. Its a choice each one of us has to decide, but its not thier fault they are cheap, and easy to replace, and they end up as pets under our care.

best of luck






---

CLICK
Berserka
Administrator


member is offline




. . . . . . According to my best recollection . . . . . . . . . . I don't remember







Joined: Jan 2006
Gender: Female


Posts: 12,030
Location: Australia
Karma: 65
Re: My canary is breathing too fast
« Reply #2 on Feb 11, 2008, 3:35am »

---

I would tend to think with her breathing that she may have a respiritory inflammation - maybe she might have had it since hatching. Does she always breathe fast? or does she breathe faster after exertion (even if just a little), a small fright? Does she move around as much as the other canaries?
With the leg, I'm at a loss I'm afraid. I don't even know if bird get arthritis. A breeder I saw yesterday has some parrots that sit funny because in the nest the mother stood on the bird which affected it's hip.

Probotic is good for adding healthy enzymes into birds but will not cure them if they are ill.
Spark will give them an added boost.
Both products are available from Vetafarm Australia - don't know if you are overseas & can get Vetafarm products or their equivalent from a vet supplier.
.
.
.
.
.
Please note:
While we do our best to provide health information and advice for birds, please remember that we are not avian health experts here and any advice is our opinions only.
A qualified avian vet is the best person to give a medical diagnosis.

---

I am a Vampire. Please let me bite you, it won't hurt a bit and will only take a few seconds:

http://s14.bitefight.org/c.php?uid=36807

PSITTACINE BEAK AND FEATHER DISEASE (PBFD) information website:

http://www.manauspbfdiseasesite.com