Post by mybirdpix on Jul 30, 2008 15:36:15 GMT
Hi,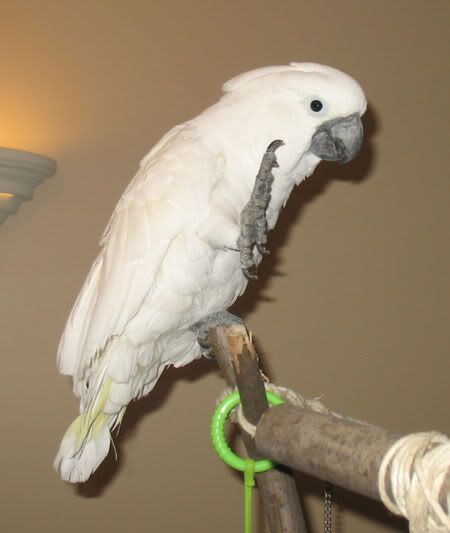 My name is Pete and I'm a Umbrella Cockatoo and I think I'm about 10 years old.
I came to live with my dad 8 years ago and he was told then that I was about 2 years old.
My Mom and I think it's funny the way my dad and I met...

One day my Dad came home from work and his wife (now his ex-wife) was there with me and said "I bought you a bird" and then she left him. I guess she didn't want him to be lonely or something. Anyway the funny part is she bought me from some guy in Toronto and she used my Dad's credit card...

NO CAGE either..just me.
So my dad had to figure out where to keep me.
I tried to tell him I'll just run around the house and I can sleep in your bed. But I can't talk so he found an old dog crate and made it into a fairly decent cage for me. Sorry I don't have any pictures of it but my MOM hated it.
I thought Dad and I were doing pretty good, just the 2 of us...then he brought this lady home one night....Man was I MAD.
I was so happy when she went home.
Then she moved in...oh boy now I was really upset and I told them.
My new Mom kept trying to get me to step up and wouldn't leave me alone. I almost took her thumb off once ...
Then I thought hmmm I think I'm going to pretend to like her in front of my dad so he'll think she's crazy when she tells him how I hate her

It worked pretty good actually.
Then one day Dad and Mom decided to go to a cottage...and they took me..It was freezing there. I thought July was supposed to be warm.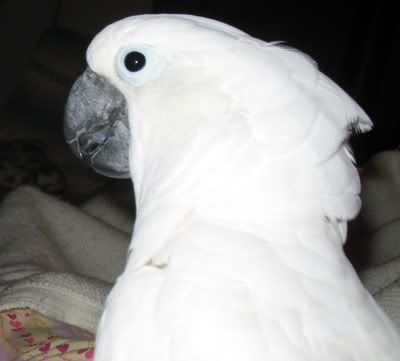 My Mom who was a little afraid of me hehehehe came out in the night and the fire had gone out so she said "If you promise you won't bite me you can come and cuddle in the blankets with me"
So I gave her the sweetest look I could and she said "Okay I trust you, now you have to trust me".
We have been the best of friends ever since. I just LOVE my mom now.
I think she kind of saved me that night. I was pretty cold.
A couple of month went by and I was getting pretty close to my mom but then she started a new job. I was alone again ALL day and I started picking at my feathers alot. Mom and Dad talked and they decided to get me a friend to talk to. They brought home this Green guy that I didn't really like but it did keep me busy watching him and I stopped chewing my feathers.
Now I LOVE that GREEN guy.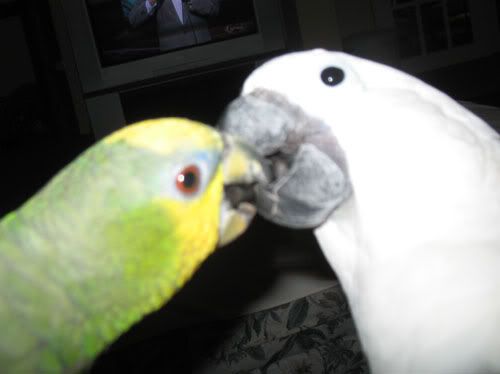 We are best friends.
My Mom now works from home so she peeks in on us all day and takes us all out when it's our turn and we gets cuddles and kisses when she takes her breaks. I love it when it's my turn.
My favorite things I like are:
Cuddling
Jumping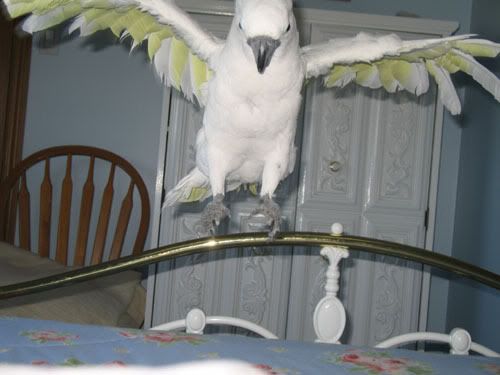 Eating
Playing
And as you can see I love to dance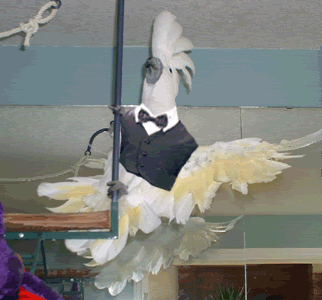 Dad built us an outside aviary for the summer time and it's so much fun. We get lots of fresh air and sunshine when it's warm out.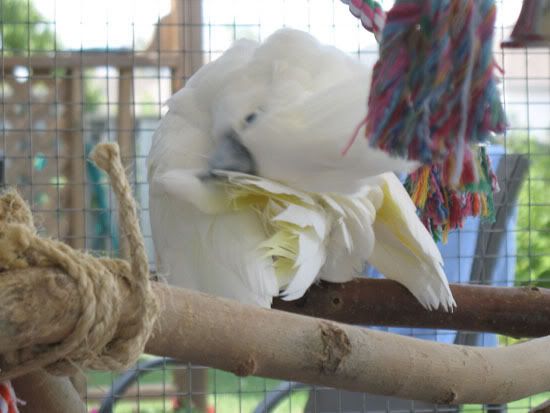 For the cold months we play in the basement in a tree my Dad built for us.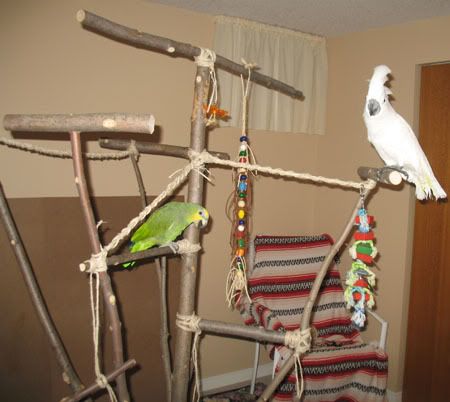 Life here is pretty good.
Thanks for reading my story everyone.