Post by mybirdpix on Aug 13, 2008 3:44:20 GMT
Hi I'm Benny and my mom is typing this for me cause I'm not too good at this typing stuff.
I don't remember a lot about my past but I lived in a pet store for about 2 years. Those birds there scared me so the owner moved me beside the kitties. I tried to tell her I wasn't a bird for months and finally she listened to me when I wouldn't eat for a day...sneaky huh?
I do know that before I went there something happened that was bad because now I can't fly. I can't even glide because my wing is not right anymore.
See how my one wing just hangs?
So my Mom started coming into the pet store every week just to visit me and the lady kept saying you need to take him home. After a few weeks she brought Dad in to meet me and I really didn't like him too much but I stepped up for him anyway. Mom and Dad talked and I was sure they were going to take me home but they left. That was fine with me I had all the kittens anyway.
Another week went by and Mom came back and talked to the store lady for a really long time. Next thing I know I was in the back of a car and whistling at all the cool sounds outside.
She took me to some house where I stayed in the bedroom with her for a couple of days and we talked for hours, well she talked and told me about the house she was taking me to, I just kept saying "HELLO"
So then I'm back in the back of the car again and this time it was a really long drive and when we finally got there, that man was there that came into the pet store.
I was NOT happy but then I saw Sunny and my eyes lit up right away.
The lady at the pet store said I NEVER came off the cage...

She was wrong I just had to get to that dog or was it a cat...oh who cares I fell in love at first site.
And as you can see she feels the same way about me.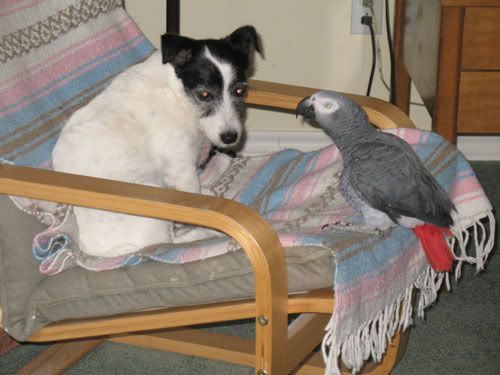 We were made for each other I tell you.
THINGS I LIKE.
Eating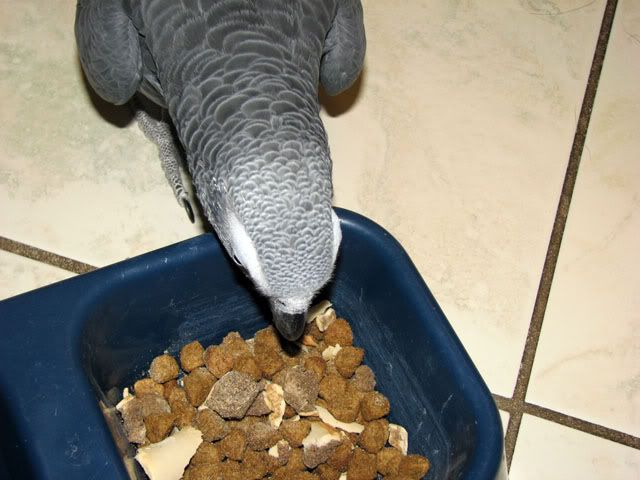 Playing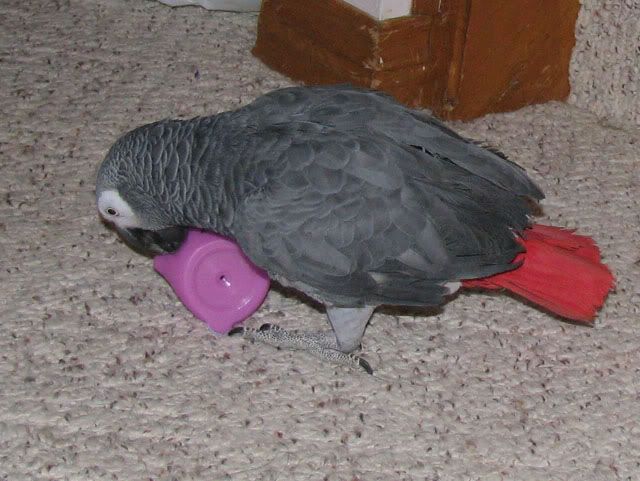 Talking to Sunny
Scaring the big dog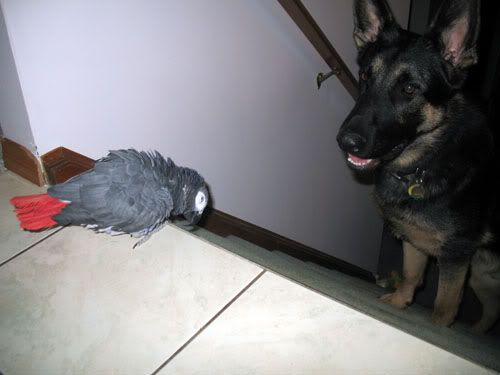 Sunbathing
Hiding from MOM
But mostly I just like the feeling of being safe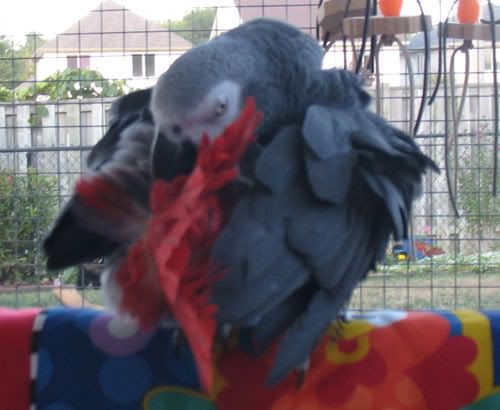 I even let my mom pet me now and I actually kissed her the other night.
She thought I was going to grab her finger but I just licked it like the dog does ;D
My favorite words and sayings are
WOW!
Come on!
HELP!
Are you alright?
Hello!
and a few more but I can't remember right now
Mostly I like to make all the noises that Sunny makes like licking, eating and barking.
Like I said before I'm really not a bird. ;D